Media from a Unique Perspective.
Franklin Aerial is an aerial services company. 
We utilize and fly drones to create and produce unique media. Our aerial services include commercial grade DJI Inspire 2 drones with x4s, x5s, or x7s cameras.  Additionally, our pilots are FAA certified to fly commercial missions, not to mention have extensive experience to capture video or photography.
As an illustration, Imagine these common scenarios for a moment:
Perhaps you run a golf course or oversee the promotion of a new community with incredible amenities.

Maybe your group has invested in a terrific commercial location.

Here's a big one: You are a construction company and the ad agency handling the promotion wants to keep interest within the community with video and photos.
For the most part, potential clients will see and experience any one of these scenarios solely from ground level.  By comparison, given an additional perspective or view may be the catalyst to change a client's maybe to an emphatic yes!
For the reasons mentioned above, we are frequently requested to create media for communities, golf courses, construction documentation, and commercial properties.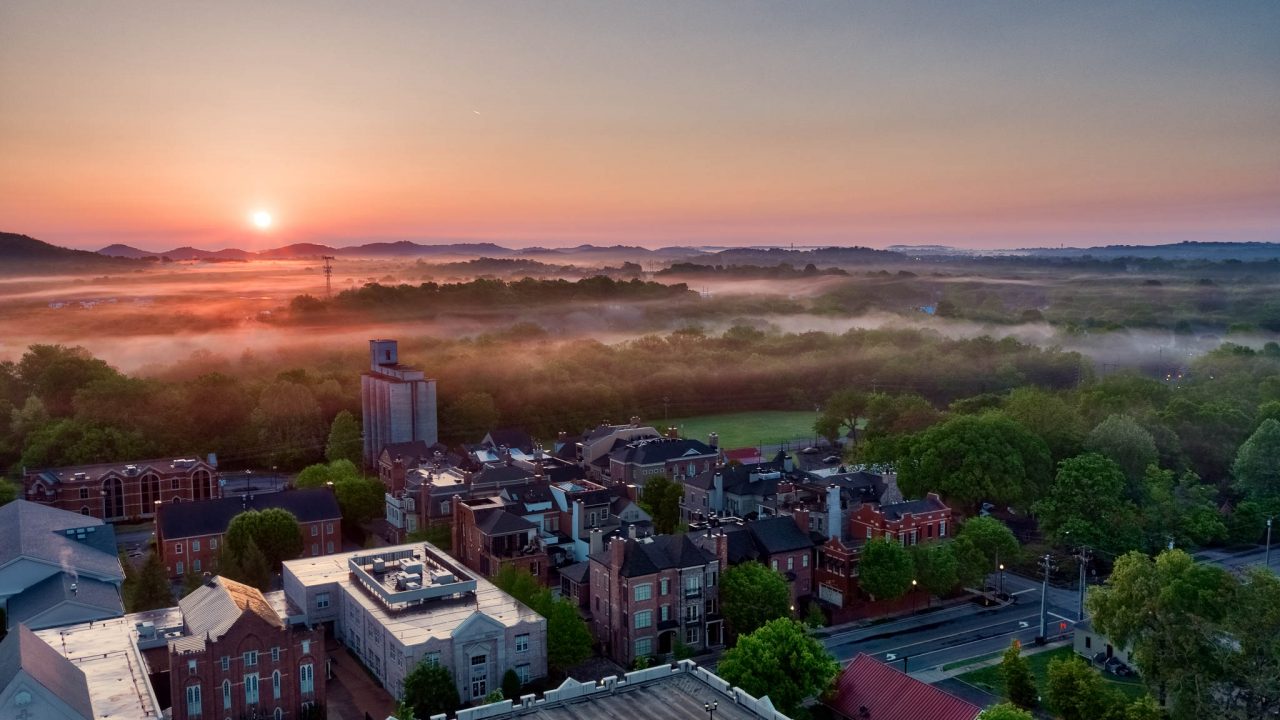 Who could benefit from Drone Services?
Aerial services as a whole are still in their infancy.  Be that as it may, drones have truly taken the country by storm.  Without a doubt, benefiting the most are real estate, construction, golf, and motion picture industries.
As much as drone services are being utilized, there are still many businesses that could benefit.  For instance, city or county planning could get a real time birds eye view of property or parks can keep a watch on animal life or study erosion.
The image to the right was commissioned by 906 Architects to showcase the design of this Aquinas College building.
Use Franklin Aerial services to improve your bottom line.
It may be surprising to learn the variety of other businesses and services that are currently utilizing drones services.  For instance, power companies are saving millions by utilizing aerial services instead of helicopters for line inspections.  Another example are farms utilizing mapping for crop rotation and harvest. Fire, rescue, and police are using drones with infrared to save lives or catch a criminal.
At this point, buildings are going up in Middle Tennessee as fast as they can get approved. Meanwhile regulations have tightened, increasing the need for media documentation to avoid potential exposure. If you are in construction, documenting your work with drone services can protect your investment and help prevent frivolous lawsuits.
Sales are equally important. Indeed, showcasing your final product from an aerial perspective adds class and sophistication to your presentation.
A bird's eye view promoting your community.